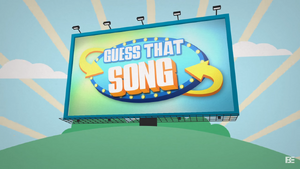 The "Guess that Song Challenge" is a challenge on the REACT Channel, that premiered on April 21st 2017, where two Reactors are playing against each other. They will hear a few seconds from a song. They have to buzzer and guess the song and artist. The one who guessed it correctly first gets a point. The one with the most Points out of five songs is the winner.
The game was first played in episodes of FBE Staff React.
Note: Stats up to date until TEENS GUESS THAT SONG CHALLENGE #6 (REACT).
Episodes:
Edit
Ad blocker interference detected!
Wikia is a free-to-use site that makes money from advertising. We have a modified experience for viewers using ad blockers

Wikia is not accessible if you've made further modifications. Remove the custom ad blocker rule(s) and the page will load as expected.