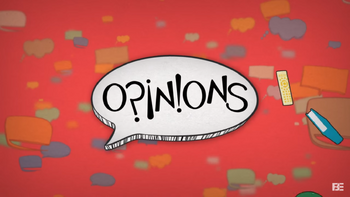 Opinions is one of the series on the REACT channel. It premiered on August 14th 2014. It features the reactors from Kids React, Teens React, Adults React, and Elders React. They are asked a question and they give their opinion on it.
Episodes:
Edit
Ad blocker interference detected!
Wikia is a free-to-use site that makes money from advertising. We have a modified experience for viewers using ad blockers

Wikia is not accessible if you've made further modifications. Remove the custom ad blocker rule(s) and the page will load as expected.