Welcome to The Fine Bros Wikia!
This is a database about the YouTube channels run by 
The Fine Bros
.
Fine Brothers Entertainment and REACT are run by Benny and Rafi Fine who are brothers, hence the name. FBE currently has more than 16 million subscribers and REACT has more than 8 million subscribers. They also have a secondary channel called FBE2.
The Fine Brothers are well known for their React video series:
The Fine Bros also produced multiple one off reacts including Cats React for April Fools Day 2014, and Celebrities React, which has now become a more regular show, in August 2014.
The REACT channel produces regular content with the reactors including:
Creators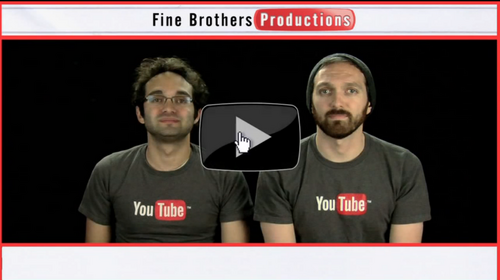 Beni and Rafi Fine are the creators of the Fine Bros Channel and run Fine Bros Entertainment. They created their YouTube channel in June 2007. Their first videos were mainly sketches. They went on to create many video series including Spoilers, LOST Parody, Emo Dad, and Last Moments of Relationships. They are most well known for their series of react videos. The first was Kids React to Viral Videos #1 (Double Rainbow, Obama Fail, Twin Rabbits, Snickers Halloween) which was released on October 16th 2010. This was very successful and led to the Fine Bros producing other react series such as Teens, Elders, and Adults React.
The Fine Brothers also produced a transmedia web series called MyMusic which had two series and ran from April 2012 - January 2014. The Fine Brothers have produced two TV series: React to That which aired 12 episodes on Nickelodeon from December 2014 - January 2015, and Six Degrees of Everything which aired on TruTV from August - October 2015. They were also the hosts of Six Degrees of Everything. The Fine Bros produced an online video series available through YouTube Red called Sing It.
The FBE Podcast was launched in June 2017. This is a podcast joint-hosted by the founders of FBE, Benny and Rafi Fine, and staff member Jon Green, as well as a guest host. In each episode the guest host, normally a staff member or reactor, is asked questions from the audience directed at them, and then everyone answer questions from the audience about the company.
A behind-the-scenes vlog called FBE Studio Life was launched on FBE2 in September 2017 and documents what happens n the FBE office during the week.
Popular Video
Links
Question of the month
What is your favorite react series?
Featured Reactor
Ad blocker interference detected!
Wikia is a free-to-use site that makes money from advertising. We have a modified experience for viewers using ad blockers

Wikia is not accessible if you've made further modifications. Remove the custom ad blocker rule(s) and the page will load as expected.